AUTAA offers lifting solutions to meet any issues you might encounter.
Whatever your activity, its complexity, the configuration, the type, size or weight of your goods, we guarantee a customized and efficient service.
With our recent fleet of 80 mobile cranes from 25 to 750 tons and of 40 boom truck cranes divided between all our agencies, we can respond to all kinds of requests and work site configurations.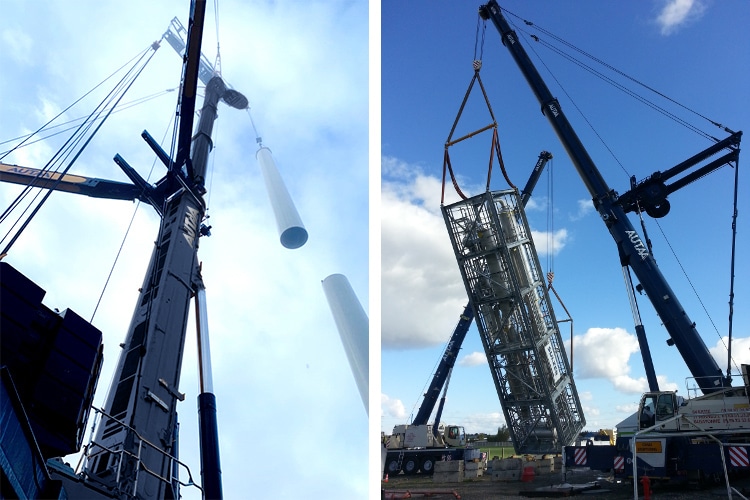 Owing to our recognized know-how, we can offer services adapted to each case and at the same time guarantee the reliability of the operation. We can conduct feasibility studies simply on request, and implement all the resources you need to complete your projects.
Our technical and commercial services are organized such that we can prepare and execute your operations in optimum conditions:
Pre-site visit to assess specific risks, and to identify with you the equipment and machinery you need (accessibility, height, offset, load).
Drawing up a lifting plan.
Load lowering calculations
Management of public highway authorization requests.
Presence of a safety coordinator when required by the type of operation.
Our main areas of intervention are: petrochemicals, building, public works, steel industry, aeronautics and telecommunications.
Our operators are used to performing the most difficult lifting operations and hold the regulatory CACES training certificates as well as other safety-focused ones: first-aid, chemical risk certification N1/N2, electrical certification, special-site training, internal awareness-raising sessions of the observance of HSE rules.
All our lifting gear is regularly inspected by in-house personnel, and a six-monthly inspection is also conducted by a certified organization.
All our vehicles are maintained and inspected by our mechanics as part of our in-house preventive and curative maintenance procedure.
We have a constant renewal policy, meaning our equipment is recent and efficient.